Imagine knowing exactly what to say whether you're crafting a caption, writing an email, sharing your backstory – or even just introducing yourself.
This 90 Day Brand Messaging Bootcamp will give the framework, confidence, clarity - and yes, the words! - you need talk about your brand, online and off.
A lack of clarity in your brand message can cost you a lot.
Wasted time.
Money spent on marketing that did nothing.
And the worst of all:
Revenue lost because you didn't attract the right audience.
I learned this lesson the hard way and now I've made it my mission to make sure no one has to struggle with this again. If you're struggling with a lack of clarity, content overwhelm and worry your brand is invisible (or forgettable), I suggest you keep reading.
On a scale of 1 to 10...
How confident do you feel right now in your ability to:
🔘 Explain what you do in 50 words or less
🔘 Write your own social posts, emails + web pages
🔘 Share your backstory and "why" with your audience
🔘 Write a bio for social media that makes someone take notice
🔘 Come up with relevant + interesting content ideas
Here's the thing.
You're probably already spending a ton of time creating content.
You may have even invested in other programs (or copywriters) to help you with it.
But if you're reading this right now, it's because your gut is telling you it's not working.
…Mind if I suggest a solution?
Introducing Brand Messaging Bootcamp
90 days to total clarity in your content + copy​
☑️ 5 modules with easy to follow video lessons (on demand for life)
☑️ A Brand Messaging Bible template (no more struggling to find the words)
☑️ Email, social media, script + bio swipe files (stop trying to reinvent the wheel!)
☑️ A private Facebook group for live Q+As, content reviews + hot seats
☑️ A professional copywriter + personal branding coach as your expert guide
And once you're done?
☑️ No more time or $ wasted on creating another piece of content that does nothing for your brand
Over 90 days, the Brand Messaging Bootcamp will teach you...
Step 1: Defining your Dream Client
Before we can go deep, we need to create the outline of your ideal client, customer or fan so we know what we're aiming for.
You'll create detailed profiles using fun templates that go beyond classic demographics
You'll do a bonus visual mood board to help visualise who they are and what they like
You'll be able to use your profile(s) to help with targeting if/when you create paid ad campaigns for Facebook + Instagram!
Step 2: Learning to speak their language
This is where we'll put on our detective hats and start to do some meaningful research, pulling together a swipe file of client language worth its weight in gold.
You'll learn exactly how (and where) to find your dream clients or customers
You'll start "swiping" words and phrases from them that you can use to write your own copy
You'll start collecting a library of content ideas that your audience actually wants to hear about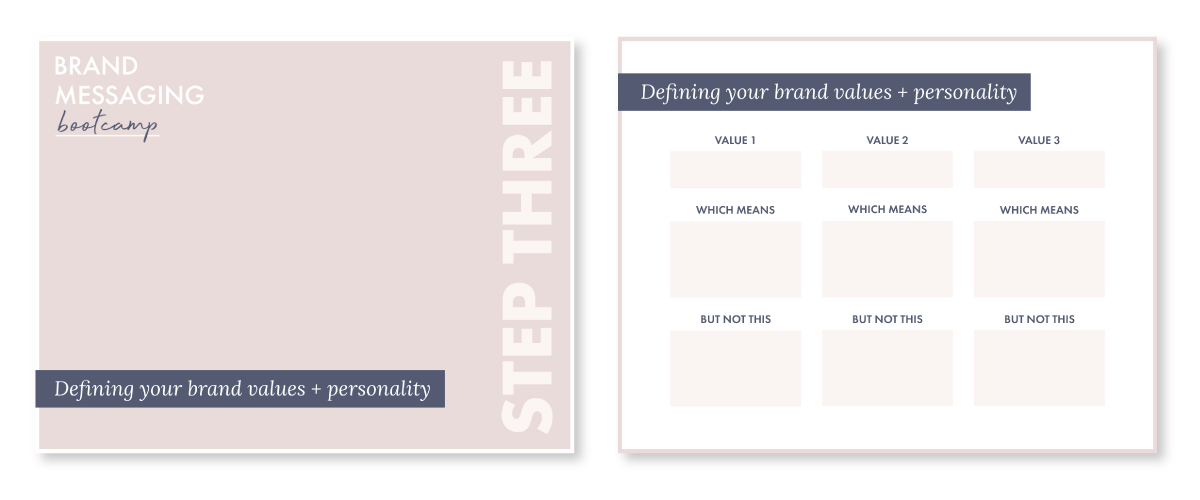 Step 3: Defining your brand values + personality
Now it's time for you to figure out what you want your brand to represent so you can develop a brand strategy that's in alignment with who you are.
You'll define your 3 core brand values and understand how they'll affect your content
You'll define your brand personality and how it'll influence your tone of voice (and visuals)
You'll create a mini Tone of Voice guideline
You'll create a first draft of your mission statement (to be refined in Steps 4 + 5)
Step 4: Writing your Brand Story
Inspired by the Story Brand framework, we're going to write a story for your brand that positions your dream client as the hero (not you!) so your content will start to move the needle for your biz.
You'll draft each of the steps of your brand story
You'll define your own process or framework for solving your client's problem
You'll define the transformation (from this to this) you provide for your client
You'll draft your one-liner (elevator pitch)
Step 5: Creating your Brand Messaging Bible
And finally, we're going to pull it all together by creating a Brand Messaging Bible using simple formulas and swipe files so you're never short on ideas or words for your content again.
You'll create a swipe file of key brand messages that make writing sales pages a breeze
You'll write the perfect welcome email to introduce people to your list
You'll write your micro, mini + full-length bios, perfect for any platform or format
You'll re-work your home + about me pages on your website so they're crystal clear
PLUS THESE JUICY BONUSES
You'll get access to my best templates and swipe files to help you write snappy social bios, meaningful about pages, powerful welcome emails + addictive video scripts.
You'll be invited into a private Facebook group where I'll be hosting weekly Q+A calls, plus some bonus hot seats and content reviews so you can learn from each other.
And you'll get lifetime access to The Social Storytelling Challenge so you can watch the videos on demand and continue upping your storytelling skills as your pair it with your newly found clarity and freshly written brand story.
Get your clear on your brand messaging and start creating content that makes a difference.​
If you were to hire a copywriter (e.g. me!) to create the Brand Messaging Bible (and everything that goes with it) for you, you'd be paying at least $4000.
But if you show up and do the work yourself here's what you'll walk away with:
☑️ A detailed client avatar that can be used to help your targeting when using paid ads
☑️ A swipe file full of copy "written" by your dream client that can be used to create social posts, sales pages, emails and more
☑️ A document full of juicy content ideas that actually interest your audience and can be turned into videos, social posts, blog articles, emails, podcast episodes... the lot.
☑️ A mission statement to drive your brand's purpose and vision, keeping you motivated and focused
☑️ A brand story (inspired by the Story Brand framework) that helps guide every single piece of content you create and ensures it hits all of the right marks
☑️ An elevator pitch that will transform your website + social bios plus give you 1000 x more confidence to introduce yourself at professional events or meetings
☑️ A welcome email that immediately takes the relationship with your subscriber to the next level and gets them excited about the next emails you'll send
☑️ An about page that demonstrates your authority and empathy without sounding awkward or braggy
☑️ Social media bios that sum up what you do within your limited character count AND encourage your followers to take action
What you need to know:
If you're showing up inconsistently for your audience because drowning in overwhelm…
If your bios are clear as mud and no one seems to *really* know what you do…
If you know deep down that you've been playing small (and paying the price)
And you're ready to start creating content that moves needle for your brand and bottom line…
Brand Messaging Bootcamp has the strategy, accountability + tough love you need to turn those 🥱 passive scrollers into superfans 🤩 and 🦗 crickets into cha-chings 💰
Not good with commitment?
How about this: Try out the program for 10 days and if you don't like what you see, email me for a full refund (no work to prove, but I will ask for some optional feedback if that's cool).
THE NEXT INTAKE OF BRAND MESSAGING BOOTCAMP WILL TAKE PLACE IN THE 2ND HALF OF 2020. JOIN THE WAITLIST SO YOU DON'T MISS OUT!